The Premier Office Furniture Broker for Businesses in Newark, NJ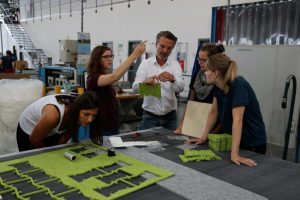 Time and time again, businesses in Newark, New Jersey, choose to partner with OFS Solutions for their office furniture needs. Why? One reason is our unparalleled experience—we've been assisting local companies with the relocating process since our founding 1961. Another factor that sets us apart from the competition is the broad scope of our services, which include:
Office furniture sales
Social distancing and office space planning
Furniture installation
Office furniture liquidation
Custom millwork
Office furniture repairs and refinishing
Office furniture storage
Furniture cleaning and electrostatic spraying
The Best Office Furniture for Your Business
OFS Solutions assists clients across a range of industries and with varying needs. We know the importance of having a diverse selection of premium-quality office furniture, which is why we partner with foremost brands to supply:
Workstations
Benching systems
Sit-stand desks
Office chairs
Reception desks
Conference room furniture
Lounge and café furniture
Healthcare office furniture
Whether you need a large conference room table, a custom reception desk, or space-saving cubicles, OFS Solutions can provide exactly what you need. We offer a wide array pre-owned, new, and built-to-order options at varying price points, so you can be assured that we have solutions that will accommodate your budget.
Let's Get Started
OFS Solutions is ready to equip your business for success. To learn more about our "white-glove" office furniture services in Newark, contact our friendly professionals today. We'll be glad to answer your questions and outline our simple financing options.