Your Trusted Source for Corporate Office Furniture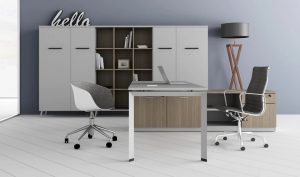 As workplace needs evolve, OFS Solutions will be here to provide the right corporate office furniture and services for your business in the NYC area. We're a foremost office furniture broker that has been serving corporations of all sizes since 1961, continuously adapting to the latest industry trends and functional needs of our clients.
You can rely on OFS Solutions for a wide array of competitively priced new, pre-owned, and built-to-order pieces from several of the industry's leading manufacturers, such as Friant, Narbutas, and Acadia. Our immense inventory includes:
Desks, cubicles, and workstations
Chairs
Lobby furniture
Conference tables
Café and lounge furniture
Benches
Creative acoustical solutions
We're A Solutions-Driven Company
At OFS Solutions, we believe it's not enough to simply provide a diverse selection of high-quality corporate office furniture. We want to set our clients up for long-term success—that's why we offer all-in-one-service that includes delivery, installation, and office space planning. Our experts can provide plexiglass wellness screens and suggest layouts to help your business better comply with social distancing recommendations. We also offer furniture cleaning services, electrostatic spraying, custom millwork, and wood refinishing, as well as storage solutions and liquidation of old office furniture. In short, OFS Solutions is a one-stop shop for all of your corporate office furniture needs.
Our Team is Here to Assist You
Help your business thrive with the right corporate office furniture. To learn more about OFS Solutions and how we assist relocating businesses in the New York City, New York area, contact our friendly professionals today. When you call, be sure to ask about our easy financing options.