Office Chairs for Your NYC Business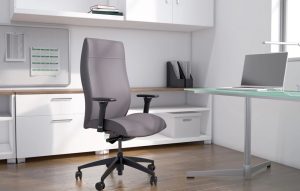 OFS Solutions is your source for all types of premium office chairs for your business in the NYC/Tri-State area. Whether you're searching for office seating for your employees, executive chairs for your leadership team, or lounge chairs for your break room, OFS Solutions is the company you can rely on to provide you with high-end workplace seating options. As a premier office furniture broker serving businesses throughout New York City, Newark, Parsippany-Troy, and beyond, OFS Solutions has all of your office furniture needs covered.
Office Chairs that are Up to the Task
When choosing furniture for your office, whether starting from scratch or expanding from your existing space, the style, functionality, and comfort are all important considerations. Not only do you need office chairs that will enable your workforce to do their jobs effectively, but you need your chairs to promote the right branding and provide the right energy for your office environment.
At OFS Solutions, we understand that there's a lot more that goes into choosing your office seating than you may have initially realized, which is why we're here to make the process simple and seamless for you. When you choose us for your workplace seating needs, you can expect:
A wide range of premium options – With numerous seating options for workstations, conference rooms, executive offices, breakrooms, lobbies, and more, you'll be sure to find the premium seating arrangements you require for your office.
Office planning services – At OFS Solutions, we specialize in creating inspired environments that will impress your visitors and help your employees thrive. We can help you build the perfect work environment right down to each office chair to ensure a productive and positive office space.
The white-glove treatment – No mater what you need to complete your office space, you can expect the experts at OFS Solutions to provide you with excellent service and a job well done.
If you'd like to learn more about the office chairs and other business furniture we offer for companies in New York City and throughout the Tri-State area, contact OFS Solutions today.