Create An Ideal Workplace With the Right Conference Room Furniture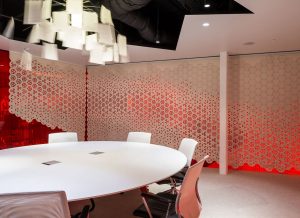 OFS Solutions specializes in helping relocating businesses promptly find the right conference room furniture for their unique needs and budget. Serving New York City, New York, and surrounding cities since 1961, our company can be your first choice for new conference tables, chairs, credenzas, console units, and so much more.
Comprehensive Design Services in New York City
Before you pick out conference room furniture for your office, our skilled designers will evaluate what office designs will support your employees, make a good impression on your clients and visitors, and match your branding. Our designs pull together style and functionality to provide an ideal office composition.
A Leading Workplace Furniture Broker
OFS Solutions has established a sterling reputation for providing a diverse selection of conference room furniture and "white-glove" service to businesses across a wide range of industries. No matter if you require several compact meeting room tables or a grand conference table to seat a large number of executives, our team has exactly what you're looking for. We're proud to offer new and built-to-order options from some of the industry's foremost manufacturers, including but not limited to:
Friant
Narbutas
Arcadia
Open Plan Systems
Stance
Candex Custom
Fine Mod Imports
JSI Furniture
Wyatt Seating
Prefer something that's one-of-a-kind? OFS Solutions also offers custom millworking services. Are you searching for conference tables with assorted tech integrations? We have you covered there, as well. And, our all-in-one approach means that you can rely on our team for delivery and installation. Even if you have a tight move-in schedule, OFS Solutions can keep pace to ensure your office is ready to go when you need it.
Preowned Conference Room Tables and Chairs
Great conference room furniture doesn't have to be brand-new. OFS Solutions handpicks used conference room furniture in like-new condition so you can have nice furnishing options at an affordable price. You can select secondhand options such as:
Tables
Chairs
Podiums
Whiteboards
Couches
Storage
We meticulously inspect all our furniture to ensure quality and functionality. You will not need to worry about unsightly stains, dents, and other problems that sometimes come with used furniture.
Full-Service Furniture Company
From the beginning, OFS Solutions has strived to provide the best service. We have won the Inc. 500 Fastest Growing Companies award and have continued to deliver amazing results. Our high attention to detail comes through as we design offices with outstanding ergonomics, organization, and style.
Our services are not limited to designing and installing office furniture. We also perform electrostatic spraying, fabric cleaning, storage services, wood refinishing, and custom millwork. Our team does what it takes to make your office pristine.
Create the Perfect Conference Room
OFS Solutions is ready to help you equip your business for success. Contact our team today to get started—our professionals are here to provide you with more information about our immense selection of conference room furniture, client services, and simple financing options. We proudly serve businesses throughout NYC and surrounding cities.