Standing Desks for Your NYC Workplace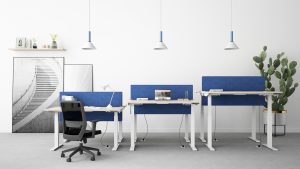 OFS Solutions is pleased to offer a wide selection of premium-quality and competitively priced standing desks to businesses throughout New York City, New York. We all know that frequently sitting for long periods of time can have negative health impacts. In fact, extensive research has shown that employees who stay seated throughout the work day may have an increased risk of:
Weight gain
Diabetes
High blood sugar
Heart disease
Back pain
Low energy and poor mood
By alternating between sitting and standing positions while at work with a sit-stand desk, employees can help boost their physical health as well as their energy and productivity levels.
Your Go-To Source for Adjustable Desks
Standing desks can be quickly adjusted for sitting or standing. And with OFS Solutions as your office furniture broker, you'll be able to easily find the perfect sit-stand desks for your new office space, workplace needs, and budget. Our expansive inventory of office furniture includes pieces from foremost manufacturers like:
Friant
Narbutas
9to5 Seating
Eurotech
Open Plan Systems
Candex Custom
Compel
Fine Mod Imports
Wyatt Seating
Great Openings
OFS Solutions provides all-in-one service, from design and installation to storage and even furniture cleaning. Our experts can also help you promote social distancing measures at your new workplace through innovative space planning services. Furthermore, many standing desks feature dividing panels to provide enhanced privacy and infection control measures.
Take the Next Step
Achieving a healthy and productive workplace may be easier than you think! Contact OFS Solutions today to learn more about the benefits of standing desks and how we assist relocating businesses in the NYC area. Financing options are available.