Find the Perfect Office Desks for Your Newark, NJ, Office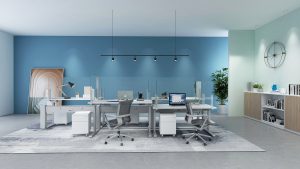 Office desks are a very important component of offices, as they can directly impact employee productivity and the general feel of your office space. That's why business owners in Newark, New Jersey, turn to OFS Solutions for their office furniture needs. We are a premier office furniture broker that offers a selection of top-quality office desks and other types of furniture, and we would be happy to help you find the ideal desks for your office.
Office Desks From Trusted Names
No matter what industry your business is in, or the number of desks you require, we can meet your needs and provide you with top-quality office desks. We source our furniture from some of the top manufacturers in the business, such as:
Eurotech
Friant
Wyatt Seating
Open Plan Systems
Compel
And others
We provide office desks in a wide range of styles, ideal for a variety of spaces from executive offices to reception furniture. We will work with you to understand your needs and then help you decide on the ideal desks for your needs. We also offer a range of other kinds of office furniture, making us a one-stop shop for furnishing your office space. Plus, we provide professional design services as well, helping you make the most out of your space.
Get Started Today
End your search for high-quality office desks with OFS Solutions. Contact us today to get started, and be sure to ask us about the available financing options that we offer to make your investment more affordable.