White-Glove Office Furniture Installation Services in New York City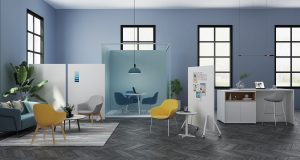 OFS Solutions is much more than a simple office furniture broker serving businesses in New York City and the Tri-State area. We pride ourselves in offering premium office furnishings, design planning and customization services, and storage and installation services. Once you're ready to move into your new office space, you can trust the professionals at OFS Solutions to provide you with white-glove office furniture installation services.
Office Movers You Can Rely On
Because OFS Solutions specializes in office furniture, we know what goes into a successful office move. The timing and coordination must be perfectly planned, and office furniture often comes with a unique set of challenges when it comes to the installation process. For that reason, you're much better off relying on trained and experienced office movers rather than opting for moving services that are more familiar with residential family moves. OFS Solutions has been in business since 1961, and we have a longstanding and proven track record of providing exceptional office furniture installation services.
Office Furniture Installation that Meets Your Needs
Whether you're expanding in your existing workspace, moving to a different location, or opening an additional location, OFS Solutions can help make the transition process as easy as possible for you. From planning out your office space to storing your furniture until it's ready to be moved and installed, we have all of your office moves covered.
Contact OFS Solutions today to learn more about our office furniture installation services. We proudly serve businesses located in and around New York City, Newark and the rest of the Tri-State area.