Office Space Planning Services for New York City Businesses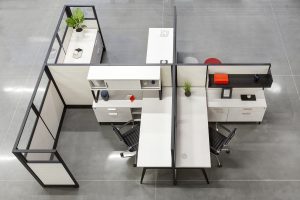 Is your office space expanding, changing locations, or adding a new location in NYC, or elsewhere in the Tri-State area? OFS Solutions is the company to turn to during any of these transition times. In addition to our wide range of premium office furniture products, we also offer office space planning services to help you figure out how you want your new or expanded office space to look. OFS Solutions has been helping businesses with their office furniture and space planning needs since 1961 and has the expertise you can rely on for all of your office space needs.
Serving All Types of Businesses in New York City
At OFS Solutions, we understand that your business is completely unique from all the other companies out there. You've worked hard to build a company, team, and culture that you can be proud of. And, when it comes to creating your office space, you want it to ultimately be a reflection of who you are as a company. This means that a one-size-fits-all solution is simply not sufficient. That's why the expert office space planners at OFS Solutions are dedicated to working hand-in-hand with you to create a work environment that you can be proud of. Whether you want a traditional office with individual offices or a collaborate open office environment, we can help you plan out your space and find the perfect furniture to suit your needs.
Work with an Expert Office Space Planner
At OFS Solutions, our office space planning experts are ready to help you with all of your office planning and furniture needs. Contact us today to learn more about the products and services we offer for local businesses.