Office Desks for Businesses in New York City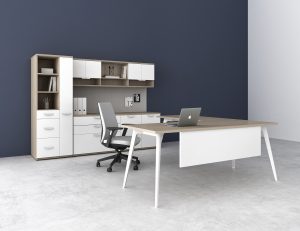 Are you in the market for work desks and other office furniture for your business in the Tri-State area? In order to find the right products, you should turn to the experts at OFS Solutions. We are proud to be a premier office furniture broker providing companies with premium office furnishings to design the perfect work environment.
Choose From Our Wide Selection of Office Desks
At OFS Solutions, we understand that no two businesses are the same. With that in mind, we've made it our goal to carry numerous different types of office desks, ensuring that we'll have solutions that serve each and every customer's needs. Our office desk options include:
Benching
Cubicles
Executive desks
Height-adjustable desks (also known as "sit-stand desks")
Reception desks
Workstations
Office Desk Brands You Can Trust
When shopping for office desks, one of your top concerns is likely finding a durable, long-lasting product that will stand up to normal wear and tear and continue serving your company for many years to come. That's exactly what you can expect from OFS Solutions. We strive to provide our customers with the highest-quality office furniture available, and we accomplish that by sourcing our products from top-name manufacturers like Friant and Narbutas.
But our selection doesn't stop there. If you have something else in mind for your business, you'll be glad to know that we also carry office desks and other furniture items from:
9to5 Seating
Arcadia
Candex Custom
Compel
Eurotech
Fine Mod Imports
Great Openings
HPFi
Indiana Furniture
JSI
Open Plan Systems
Stance Healthcare
Via Seating
Wyatt Seating
Plus, we also have used office desks for sale, which are ideal for business owners seeking a more cost-efficient alternative to brand-new pieces.
Office Desks for All Types of Companies
From hip and modern startups to traditional law offices, we've helped businesses in all types of industries with their office furniture and planning needs. Whether you're looking for benches that will promote a collaborative environment among your employees, or you'd like more grandiose desks to furnish your executive offices, you can find what you're looking for with OFS Solutions. Plus, we don't just stop at desks. We offer comprehensive office furniture products, including conference room furniture, break room furniture, and even acoustical solutions.
Custom Services to Complete the Workspace
In addition to offering a wide range of premium work and office desks, OFS Solutions is also your source for a wide range of related services. We can help you plan out your office environment to make the best use of space and create the ambience you desire for your New York City business. Additionally, we offer storage and installation services as well as custom millwork and wood refinishing to ensure your new office is just right.
Request a Free Consultation
If you're in need of office desks, workplace furniture, or related services in Parsippany-Troy, NYC, or the Tri-State area, the company to turn to is OFS Solutions. Contact us today to get started. We'll gladly schedule a complimentary consultation at a date and time of your choosing so that we can tell you more about the office desks we have for sale.