Office Desks for Businesses in New York City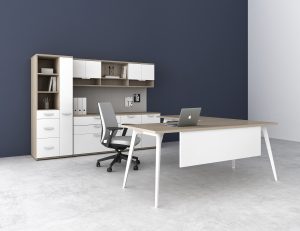 Are you in the market for work desks and other office furniture for your business in the Tri-State area? Then turn to the experts at OFS Solutions. We are proud to be a premier office furniture broker providing companies with premium office furnishings to design the perfect work environment.
Office Desks for All Types of Companies
From hip and modern startups to traditional law offices, we've helped businesses in all types of industries with their office furniture and planning needs. Whether you're looking for benches that will promote a collaborative environment among your employees, or you'd like more grandiose desks to furnish your executive offices, you can find what you're looking for with OFS Solutions. Plus, we don't just stop at desks. We offer comprehensive office furniture products, including conference room furniture, breakroom furniture, and even acoustical solutions.
Custom Services to Complete the Workspace
In addition to offering a wide range of premium work and office desks, OFS Solutions is also your source for a wide range of related services. We can help you plan out your office environment to make the best use of space and create the ambience you desire for your New York City business. Additionally, we offer storage and installation services as well as custom millwork and wood refinishing to ensure your new office is just right.
If you're in need of office desks, workplace furniture, or related services in Parsippany-Troy, NJ, NYC or the Tri-State area, the company to turn to is OFS Solutions. Contact us today to get started.