Benching Workstations for Businesses in NYC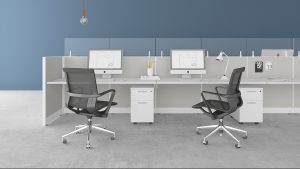 If your business in New York City, New York, is moving to a larger or smaller space, OFS Solutions can provide the premium-quality furniture and attentive service you need to achieve success. Our expansive inventory includes competitively priced benching workstations that encourage social distancing while simultaneously promoting an open work environment and fostering collaboration among employees.
Benching workstations appear as long tables with designated spaces for each employee. The versatile design of bench desks allows work spaces to be spread apart to promote social distancing, helping to create a safer and healthier environment while maintaining a sleek and sophisticated aesthetic. Many options include dividing panels for enhanced privacy, if required.
OFS is pleased to offer benching workstations and office furniture from some of the industry's foremost manufacturers, including but not limited to:
Friant
Narbutas
Arcadia
Candex Custom
Fine Mod Imports
JSI Furniture
Wyatt Seating
Open Plan Systems
Stance
Enjoy White-Glove Service
OFS Solutions is a trusted office furniture broker in the NYC area, but equipping our clients' businesses with the perfect benching workstations isn't all we do. Our comprehensive services also extend to space planning, installation, wood refinishing, electrostatic spraying, fabric cleaning, storage, and much more. We do all this while providing our signature "white glove" service that focuses on clear communication and individualized customer care. In short, we're a solutions-driven company that gets the job done right.
Learn More Information
Contact OFS Solutions today to learn more about the benefits of benching workstations, our furniture installation services, and how we can equip your workplace environment for success. Financing options are available to qualifying customers in the NYC area.