We Can Reconfigure Your Office Space to Encourage Social Distancing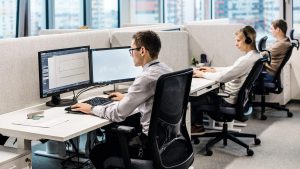 A successful business is built upon the hard work of dedicated professionals. However, when coworkers are in close proximity, germs can easily spread and employees can get sick. At OFS Solutions, we recognize how important it is for your staff to be healthy and happy. If you're based in New York City, New York, we can help make your workplace safer by reconfiguring your office space to meet social distancing protocols.
Adapting to Changing Needs
We've been in business since 1961. One reason why we've been so sustainable is that we adapt to the changing needs of our customers. With the spread of COVID, it's become apparent that shared, open-space work environments are less practical than in the past. Now, single-occupancy cubicles and workstations, appropriately spaced apart to meet the CDC's social distancing protocols, are the way to go.
Reconfiguring Your Office Furniture
At OFS Solutions, we can help align your office space with best social distancing practices. Whether that means reconfiguring your current office space or installing new cubicles and workstations that are safer for your employees, we can handle it all. Additionally, we can install plexiglass shields, also called sneeze guards, to help control the spread of germs.
Contact Us Today
For more than half a century, we've been delivering exceptional office furniture services to businesses in New York City, NY. Looking to the future, it's imperative that you take extra precautions for the health and safety of your staff. Contact OFS Solutions today to get started.