Stretch Your Budget Further With Used Office Furniture for Your Office in New York City, NY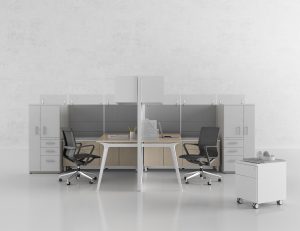 Are you looking to furnish your office in New York City, New York, without breaking the bank? Or, perhaps you are now working from home and want to finish setting up your in-home office to your liking. No matter what you need, you can turn to the furniture pros at OFS Solutions. We have a great selection of used office furniture that is in tip-top shape, so you'll be able to get all the pieces you need for your workspace without spending a fortune.
Our Used Office Furniture Looks Like New
At OFS Solutions, we understand that no one wants to buy used office chairs, used desks, or any other preowned furniture that looks like it's been through the wringer. When you turn to the furniture experts at OFS Solutions, you won't have to worry about getting stuck with furniture that appears beat up. All of our preowned office furniture is in excellent shape, and we carefully inspect each item before it is added to our inventory.
What's more, we have all kinds of used office furniture for your choosing, so we are sure to meet your needs no matter what you are looking to purchase. Our selection of preowned furniture includes numerous options for:
In addition to our extensive selection of top-notch office furniture, we also offer custom millwork, wood refinishing, and fabric cleaning services. If you'd like to add custom elements to your office design in New York City, you can rely on our professionals to provide you with those services as well. We can meet your needs and your pace as you transition your business into a brand-new space.
Personalized Office Design Services
At OFS Solutions, our experienced professionals specialize in designing and planning out new office spaces that will create the ideal space for your New York City business. Our design professionals can help create a layout that meets your needs and creates the ideal space for keeping your employees productive and impressing your clients. Whether you want a clean, fresh space for your tech startup or custom wood executive furniture for beauty and prestige, you can rely on OFS Solutions to craft the ideal space for your business. With our design services and top-of-the-line used office furniture, you can create the ideal work environment for your business.
Get Started Creating Your New Office Space
Are you ready to create the ideal office space for your business in New York City, NY? As experts in creating inspired environments, OFS Solutions would be happy to provide you with used office furniture that can help you accomplish all of your office design and furnishing goals. To speak with a member of our team about our current selection of used office furniture or any of our related services, contact us today.