A Plethora of Office Cubicles, Workstations & Benching to Create Your Ideal Work Environment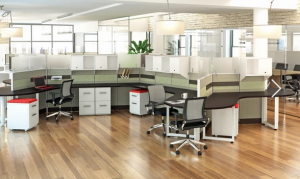 Businesses that are expanding into a larger office space will need new office cubicles and workstations for their growing staff. At OFS Solutions, we can help. As the foremost office furniture broker in New York City, New York, we have a staggering selection of high-end cubicles and workstations available to help create an inspiring work environment for your office.
We'll Make Your Project Easy
As you can imagine, there are nearly endless styles and designs of office cubicles, workstations, benching, and office desks available. Thankfully, when you partner with us, you'll have a highly experienced and knowledgeable team to help you choose the perfect configurations for your office. From traditional to contemporary, we can create any look that embodies your vision and meets the needs of your business.
Numerous Options
Office cubicles and workstations from OFS Solutions are available in a range of panel heights, pedestal and vertical storage options, glass stackers, and dozens of accessories. With a broad spectrum of fabric, finish, and paint colors to choose from, you'll be able to set the ideal ambiance of your workplace.
Social Distancing
We can ensure your new office cubicles and workstations are arranged in a way that encourages social distancing and lowers the risk of a virus spreading through the office. We can also install plexiglass wellness screens, which can further limit the spread of germs and keep your staff healthy and happy.
Contact OFS Solutions today if your company is relocating to another office in New York City, NY, and needs new cubicles and workstations. We'll keep pace with your timeline to ensure your transition is a success.