We Can Help You Find the Best Office Furniture for Your Business in White Plains, NY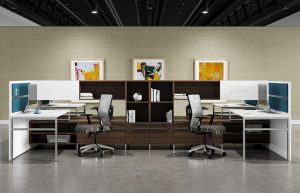 Finding the perfect office furniture for your office space in White Plains, New York, is an important task. You and your employees spend upwards of 40 hours a week in the office, so you understandably want it to be a comfortable, inviting space that encourages productivity. At OFS Solutions, we understand the importance of investing in high-quality office furniture, and we would be happy to help you furnish your office with industry-best pieces.
Office Furniture from Top Manufacturers
At OFS Solutions, we have made it our mission to provide our customers with the best office furniture on the market. We have an expansive inventory of furniture sourced from some of the top names in the industry, including:
Open Plan Systems
Compel
Eurotech
Friant
Wyatt Seating
And more
Whether you are simply looking for new desks for a few executive offices or you want to completely furnish your office space, from workstations, desks, and chairs to reception furniture, to breakroom furniture, and more, we can provide you with the office furniture you need. Simply tell us what you are looking for and we will help you navigate our inventory until you have found all the furniture you require.
To learn more about the selection of office furniture that we have available to those in White Plains, NY, contact OFS Solutions today.