Get the Perfect Office Furniture for Your Office in Westchester, NY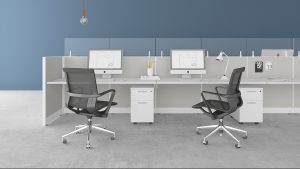 Finding the right office furniture for your office space in Westchester, New York, can seem like an overwhelming task. Thankfully, OFS Solutions is here to help. We have an expansive selection of top-quality office furniture that will transform your office and keep your employees comfortable. But, that's not all we can do. In addition to offering premium office furniture, we provide a range of other services as well. We have professional design, moving, and storage services, making us a one-stop shop for all your office furniture needs.
About Our Selection of Office Furniture
Whether you are moving your office and want to completely revamp your furniture or you're just looking to replace a few worn-out pieces, we can supply you with the office furniture you need. We offer:
Workstations
Sit-stand desks
Reception furniture
Conference room furniture
Benching
Office chairs
Breakroom furniture
And more
All of the pieces of office furniture that we provide are made by trusted manufacturers, so when you turn to us, you can trust that you are investing in furniture that will provide many years of dependable performance.
Contact Us
Are you interested in finding the perfect office furniture for your office in the Westchester, NY, area? If so, turn to the company trusted by countless businessowners and contact OFS Solutions to get started today. We look forward to providing you with all the furniture services you need to benefit your office space.