Choose OFS Solutions for Office Furniture in Parsippany-Troy, NJ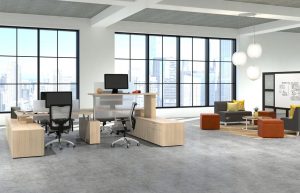 Moving into a new office space in Parsippany-Troy, New Jersey, is an exciting time for your business. But there's also lots to plan for to ensure everything goes smoothly and is ready to go on move-in day. At OFS Solutions, we have been providing office furniture and office space planning services to businesses throughout the region since 1961. Our experienced team can help you create the perfect work environment for your business, whether you're an industrial company, stately law firm, casual startup, or any other type of business.
Creating the Perfect Office Space for Your Needs
The office furniture you choose for your business in Parsippany-Troy, NJ, will greatly influence the work environment you create for your employees and any visitors you have. With premium office furniture products from top brands like Friant and Narbutas, OFS Solutions can help you design the right office environment to reflect your unique brand and culture. Our services include:
Supplying all types of office furniture – No matter what style or atmosphere you'd like to create, we have the products to suit your needs. From conference room tables and office chairs to workstations, benches, and private office furniture, we can outfit your entire working space. Plus, we offer lounge, café, and reception area furniture to fill out the rest of your office space as well.
Office space planning – If you're building out your office for the first time, it helps to get some professional design assistance to ensure you're maximizing your space and creating the inspired atmosphere you desire for your business.
Moving and installation services – OFS Solutions will coordinate with your business to help ensure the move goes smoothly, and we'll schedule the installation of your office furniture based on your needs. When you're ready to have your employees move in, your new space will be all set up and ready to go.
Whether you're searching for cubicles, open office space furniture, office desk, chairs, or industrial office furniture, OFS Solutions has you covered. Contact us today to learn more about our office furniture products and services for businesses in Parsippany-Troy, NJ.