Office Furniture Services for Businesses in and Around Morristown, NJ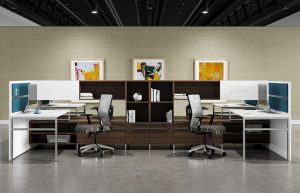 For all of your office furniture needs in Morristown, New Jersey, and surrounding areas, OFS Solutions is the company to turn to. Since our founding in 1961, we have been helping businesses throughout the region with their office furniture needs. Whether you want to create an industrial environment, a hip open-space startup atmosphere, or a stately and professional financial firm, we can help you find the perfect office furniture to suit your needs.
Office Furniture Products for All Uses
At OFS Solutions, we offer premium office furniture from some of the most elite brands in the industry, including Friant and Narbutas. You can expect their office furniture options to be durable, attractive, and designed to create the right atmosphere for your business. Our selection of office furniture includes:
Office desks
Workstations
Cubicles
Workbenches
Height adjustable desks
Office chairs
Reception area furniture
Private office and executive desks
Conference room furniture
Lounge and café furniture
And more
Additionally, we offer a range of related office furniture services, including creative acoustical solutions as needed, personalized office space planning and design services, office furniture installation, and coordination services during the moving process. All in all, you can rely on OFS Solutions for all of your office furniture needs, whether you know exactly what you'd like your new office to look like or you need help finding the right options and configurations to suit your business needs.
OFS Solutions is proud to serve businesses in and around Morristown, NJ. If you're planning to move into a new office space and would like to learn more about how our office furniture services can best serve you, contact OFS Solutions today.